Home
Local News
Windsurf Spots
Photos
Map
Noticeboard
NZ Windsurf Links
Beginners Information
Changes in the design of boards within the last few years has made windsurfing alot easier to learn and more fun. Today boards are short, wide and have lots of volume. Making the boards more stable and manuverable, ideal for learning and with a large sail fun for advanced sailors.

Length: 255cms Width: 100cms Volume: 180liters
In Tauranga, Kulim Park is the ideal place for beginners, with no current and knee to waist deep water for several hundred metres from mid to low tide and a bit deeper at high tide. There are showers, changing rooms and nice grassy rigging areas plus picnic tables and coin operated BBQs. The bottom is sandy but there are lots of shells so you might want to use booties. The best wind directions are SE, E, NE, N, NW, W, winds from the SW can be quite flukey and gusty.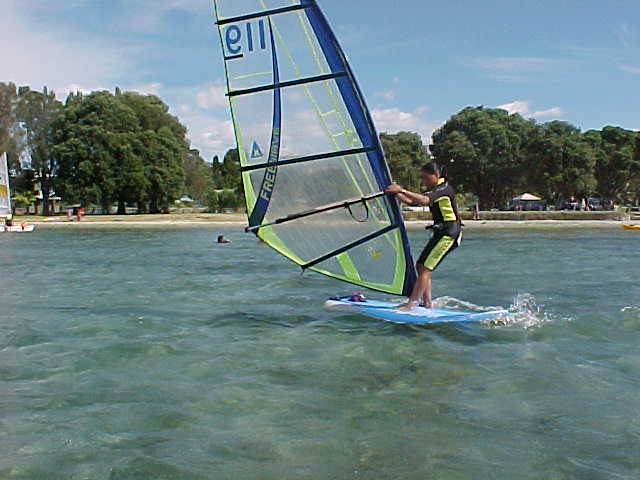 Rewa Kulim Park
Learn to Windsurf @ Kulim Park, Tauranga, NZ

Contact: Pete
0800 4 TOPAZ / 0800 486 729
Email: peter@elementsonline.co.nz
www.elementsonline.co.nz
Useful Links
Starboard have an excellent forum for beginners with lots of tips on equipment, sail rigging and technique. www.star-board.com/school/forum.asp
Archive
2001 News